Vsphere6
Description du document
Auteur : François-Emmanuel Goffinet
Date de fabrication : Thu Apr 11 2019 21:00:45 GMT+0000 (Coordinated Universal Time)
Téléchargements des supports
Marché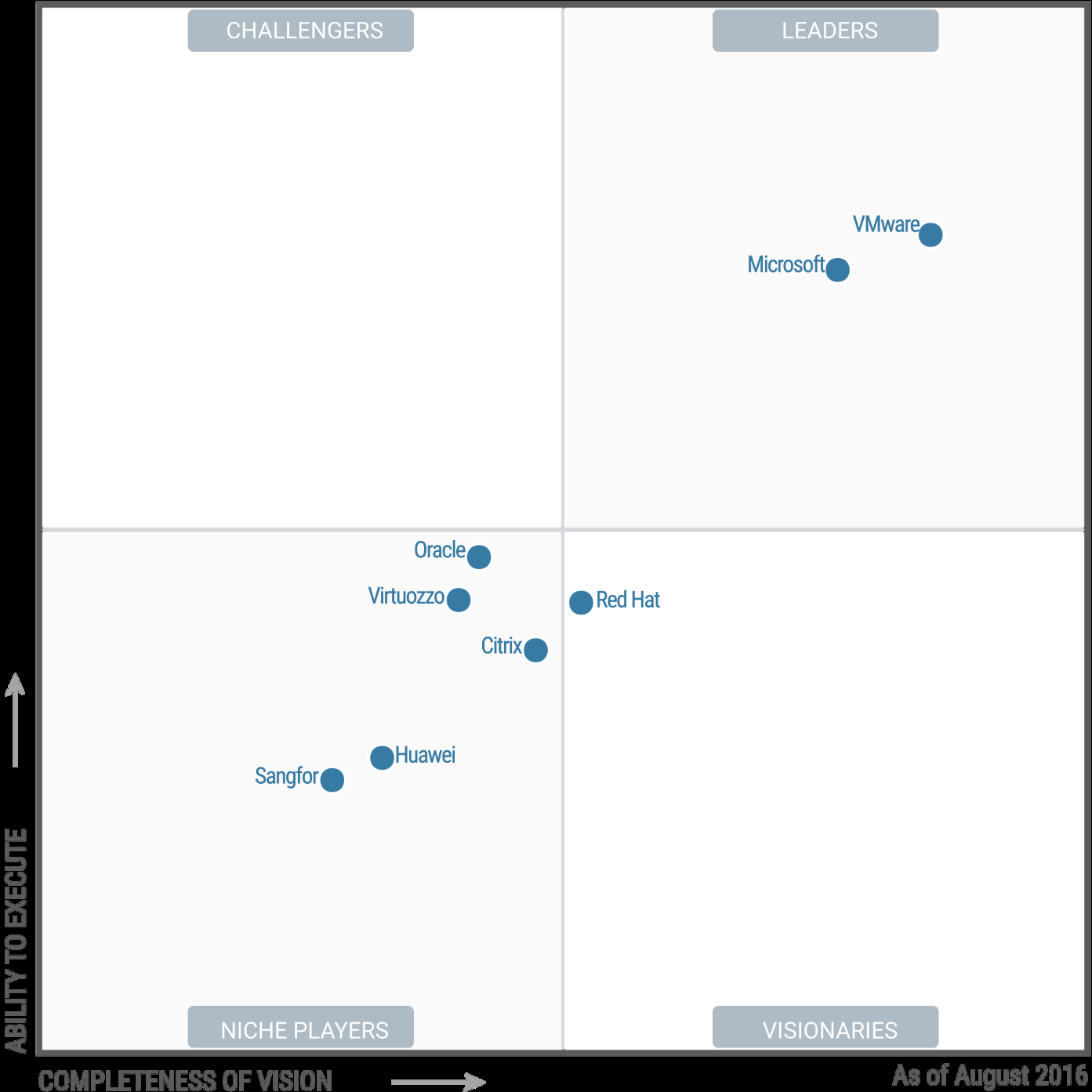 https://www.gartner.com/doc/reprints?ct=160707&id=1-3B9FAM0&st=sb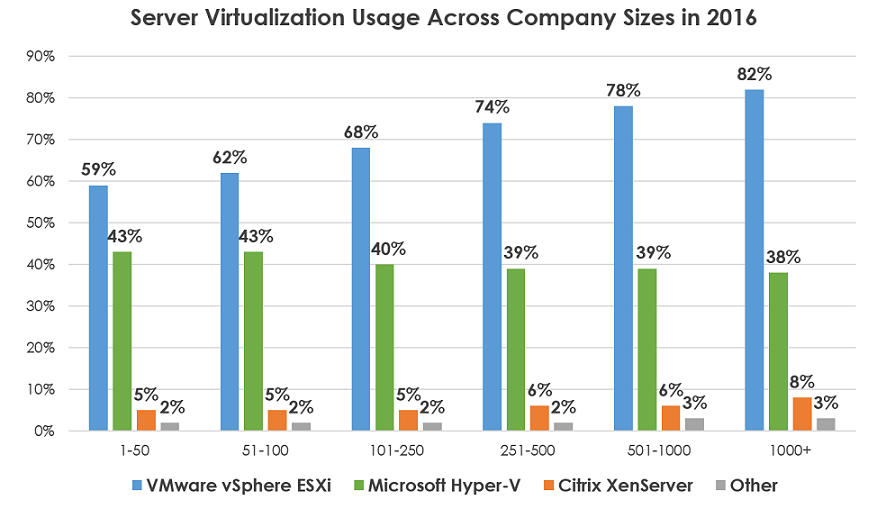 L'étude de Spiceworks porte de manière générale sur les hyperviseurs et les systèmes d'exploitation serveur en 2016. Elle révèle que 76 % des organisations ont aujourd'hui recours à la virtualisation de serveurs qui leur offre de nombreux avantages, en plus de la possibilité d'exécuter plusieurs systèmes d'exploitation sur un seul serveur physique. Ce taux devrait passer à 85 % en 2017, selon Spiceworks.

En ce qui concerne les hyperviseurs, les outils utilisés pour faire de la virtualisation, Microsoft et VMware dominent la partie, quelle que soit la taille de l'entreprise. Mais VMware se démarque largement de son principal concurrent. Dans l'ensemble, 71 % des entreprises utilisent VMware vSphere ESXi contre 23 % pour Microsoft Hyper-V. L'écart entre les deux fournisseurs est plus ou moins grand selon la taille des entreprises. Il faut également remarquer que seulement 6 % de parts reviennent aux autres hyperviseurs comme Citrix XenServer.
http://www.developpez.com/actu/101333/Spiceworks-au-moins-une-entreprise-sur-deux-dans-le-monde-utilise-encore-Windows-Server-2003-quels-systemes-serveur-utilisez-vous-en-entreprise/
Hyper-V a maintenant 30,6% de part de marché dans la virtualisation de serveurs x86, ce qui signifie que Microsoft a gagné 4,6% depuis la sortie de Windows Server 2012. La part de marché de VMware s'élève aujourd'hui à 46,4 %, ce qui signifie qu'il a perdu 5,1 % de parts de marché depuis la sortie de Windows Server 2012 Hyper-V.
Produit vsphere
Composants

Infrastructure
1 domaine : vsphere.local
3 réseaux :

Management : .1.0/24
Production : .10.0/24
Vmotion : .20.0/24
Storage : .30.0/24

6 machines :

gw (.1) : routeur, DHCP, DNS, NTP
viclient (.101) Une Station de gestion
vcenter (.50)
esxi01 (.51)
esxi02 (.52)
san (.90)
Modules
Course Intro
Virtualization Intro
Virtual Machines
vCenter Server
Networking
Storage
VM Management
Resource Monitoring
High Availability and FT
Host Scalability
vSphere Update Manager
Install vSphere Components
Exercices
VMware vSphere: Install, Configure, Manage Lab Manual ESXi 6 and vCenter Server 6
Lab1: Installing vSphere Client
Lab2: Configuring ESXi Hosts
Lab3: Working with Virtual Machines
Lab4: Working with vCenter Server
Lab5: Using vSphere WebClient
Lab6: Creating Folders in vCenter Server Appliance
Lab7: Using Standard Switches
Lab8: Using vSphere Distributed Switches
Lab9: Accessing iSCSI Storage
Lab10: Accessing NFS Storage
Lab11: Managing VMFS Datastores
Lab12: UsingTemplatesandClones
Lab13: Modifying Virtual Machines
Lab14: Migrating Virtual Machines
Lab15: Managing Virtual Machines
Lab16: Managing vApps
Lab17: Managing ResourcePools
Lab18: Monitoring VirtualMachinePerformance
Lab19: Using Alarms
Lab20: (Optional) Using vRealize Operations Manager
Lab21: Using vSphere HA
Lab22: Implementing a vSphere DRS Cluster
Lab23: Using vSphere Update Manager
Answer Key
Nested Virtualization (virtualisation imbriquée)
Création des réseaux virtuels
Mise en place de la passerelle
Mise en place de esxi01
Installation de viclient
Mise en place de vcenter
Mise en place de esxi02
Mise en place de nas
...
Services NTP et DNS
Tous les composants doivent disposer d'un FQDN (c'est à-dire que DNS peut résoudre)
Tous les composants doivent être synchronisés sur la même horloge NTP
Entrées DNS
...
Images
What's New with vSphere 6.5 Hands on Lab :
Passerelles
OpenWRT
Configuration :
Type : Autre Linux 64 bits
RAM : 512 Mo
Documentation :
Procédure d'installation :
Créer une VM dénommée 'gateway' Autre Linux 64 bits dont la première interface est le LAN et la seconde est le WAN. Le bus des disques est IDE.
remplacer le disque 'gateway.vmdk' par openwrt-15.05-x86-64-combined-ext4.vmdk.

cp openwrt-15.05-x86-64-combined-ext4.vmdk 

$datastore

/gateway/gateway.vmdk

pfSense
Configuration :
Documentation :
ESXi ISO image (Includes VMware Tools)
Configuration matérielle
CPU : 4 à 8 Go
RAM : 4 à 32 Go
Disque : 80 Go
vNIC : management .1.51/24 (esxi01) et .1.52/24 (esxi02)
vNIC : production .10.51/24 (esxi01) et .10.52/24 (esxi02)
vNIC : vmotion .20.51/24 (esxi01) et .20.52/24 (esxi02)
vNIC : storage .30.51/24 (esxi01) et .20.52/24 (esxi02)
Configuration bas niveau
Fixer adresse IP, masque, passerelle, serveur DNS, nom d'hôte FQDN
Activer SSH
Activer BASH
Configuration de haut niveau
Client NTP
Renommer le datastore, par exemple datastore-esxi01
VMware vCenter Server Appliance
VMware vCenter Server Appliance
Installation sur une machine virtuellle dans un ESXi à parir d'une station de travail.
L'installation démarre à partir d'une image ISO qui doit être montée sur une station de travail. Sous Linux la procédure est la suivante :
mkdir /cdrom
mount -o loop -t iso5660 vcsa.iso /cdrom


cd

 /cdrom/vsca-ui-installer/lin64
yum -y install libXScrenSaver
./installer

L'installation se déroule en deux étapes :
Étape 1 : Déployer le fichier OVA en tant qu'appliance serveur vCenter avec un contrôleur de services de plate-forme embarquée (Embedded Platform Services Controller)
Étape 2 : Configurer l'appliance vCenter Server nouvellement déployée avec un contrôleur de services de plate-forme embarqué
Source : Deploy the vCenter Server Appliance with an Embedded Platform Services Controller by Using the GUI
Dans la première étape, la station de travail qui exécute l'ISO doit avoir accès à l'ESXi qui hébergera le serveur.
Dans la seconde étape, la station de travail de déploiement doit accéder au serveur. Elle peut être achevée sur le serveur lui-même à partir du port TCP 5480 en HTTPS : https://vcenter.vsphere.local:5480/
Quelques informations sur l'OS utilisé par cette "Appliance" :
Photon OS est un système d'exploitation open source, Linux conteneur host runtime optimisé pour VMware vSphere®. Photon OS est extensible, léger et supporte les formats de conteneurs les plus courants tels que Docker, Rocket et Garden. Photon OS comprend un système de gestion du cycle de vie des paquets à faible encombrement, compatible yum, et peut prendre en charge un système de gestion des versions de type rpm-ostree. Utilisé avec des outils et environnements de développement tels que VMware Fusion®, VMware Workstation™, HashiCorp (Vagrant et Atlas) et un environnement d'exécution de production (vSphere, VMware vCloud® Air™), Photon OS permet une migration transparente des applications en conteneur du développement vers la production.
https://vmware.github.io/photon/
Serveur de stockage
Openfiler
Téléchargement de l'image Openfiler
Type de VM : Linux >+ 2.6
Configuration idéale :
2 CPU
8 Go RAM (4 Go Minimum)
/dev/sda : 16 Go, Thin, système
/dev/sdb : 256 Go, Thin, LVM
vNIC : management .1.90/24
vNIC : storage .30.90/24
Interface d'administration : https://san.vsphere.local:446
Username : openfiler
Password : password
How to configure OpenFiler iSCSI Storage for use with VMware ESX
FreeNas
Activation vMotion
Datastore NFS
vmKernel vmotion activé avec adresse IP sur un vswitch dédié
Versions vSphere 6.0 / 6.5
| Feature | vSphere 6.0 | vSphere 6.5 |
| --- | --- | --- |
| Released | March 2015 | November 2016 |
| Physical CPUs per host | 480 | 576 |
| Physical RAM per host | 12 TB | 12 TB |
| VMs per host | 1024 | 1024 |
| vCPU per VM | 128 | 128 |
| vMEM per VM | 4 TB | 6 TB |
| Cluster Size | 64 | 64 |
| High Availability | Reactive HA | Proactive HA |
| vSphere Integrated Containers | NO | YES |
| VM Hardware Version | 11 | 13 |
| VMFS Version | 5.61 | 6.81 |
| Management | vSphere Web Client, vSphere Client (C#) | vSphere Web Client HTML5 Client |
| Authentication Management | Platform Services Controller | Platform Services Controller |
| vMotion | vMotion across vCenters, vMotion across vSwitches | vMotion across vCenters, vMotion across vSwitches, Cross-Cloud vMotion |
| vMotion Network Support | L3 Network, max. 100ms RTT | L3 Network, max. 100ms RTT, vMotion Traffic Encryption |
| Win to vCSA Migration | vCenter 5.5 to vCSA 6.0 | vCenter 5.5 to vCSA 6.5, vCenter 6.0 to vCSA 6.5 |
| REST API | NO | YES |
| VM Encryption | NO | YES |
| Virtual Volumes | Virtual Volumes 1.0 | Virtual Volumes 2.0 |
| Virtual SAN | VSAN 6.0 / 6.1 / 6.2 | VSAN 6.5 |
| vCenter Type | Windows, Linux (vCSA) | Windows, Linux (vCSA) |
| vCenter HA | NO | YES |
| vCenter Native Backup | NO | YES |
| vCSA Scale (vPostgres) | 1000 Hosts, 10000 VMs | 2000 Hosts, 25000 VMs |
| vCSA Operating System | SUSE Enterprise 11 | Photon OS |
Source : http://www.virten.net/vmware/vsphere-6-0-vs-vsphere-6-5/
Difference between VMware vSphere 6.0,6.5 & vSphere 6.7
Notes
Clonage ESXi
store="/vmfs/volumes/datastore1"
src="stacktrain"
for x in 1 2 3 4 5 6 7 8 9 10 11 12 ; do
echo "Cloning $src to $src-$x begin ..."
date
mkdir $store/$src-$x
cp $store/$src/$src.vmx $store/$src-$x/$src-$x.vmx
vmkfstools -i $store/$src/$src.vmdk $store/$src-$x/$src-$x.vmdk -d thin
sed -i "s/$src/$src-$x/g" $store/$src-$x/$src-$x.vmx
vim-cmd solo/registervm $store/$src-$x/$src-$x.vmx
echo "Cloning $src to $src-$x done."
date
done

Préparation d'images Ubuntu
name=

"server"

 ; dbus-uuidgen > /etc/machine-id ; sed -i 

"s/preserve_hostname: false/preserve_hostname: true/g"

 /etc/cloud/cloud.cfg ; hostnamectl 

set

-hostname 

$name

 ; reboot