Vsphere6
Marché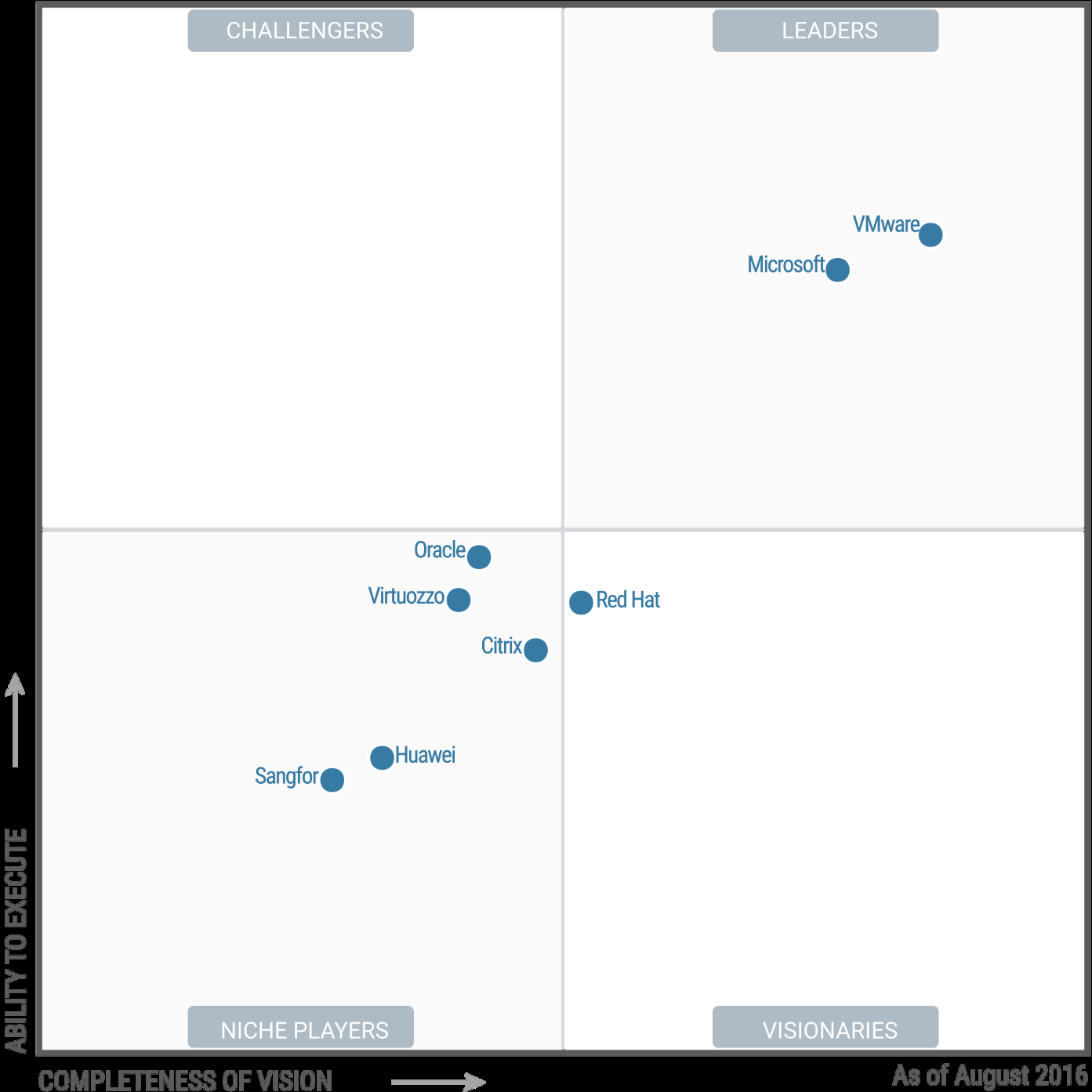 https://www.gartner.com/doc/reprints?ct=160707&id=1-3B9FAM0&st=sb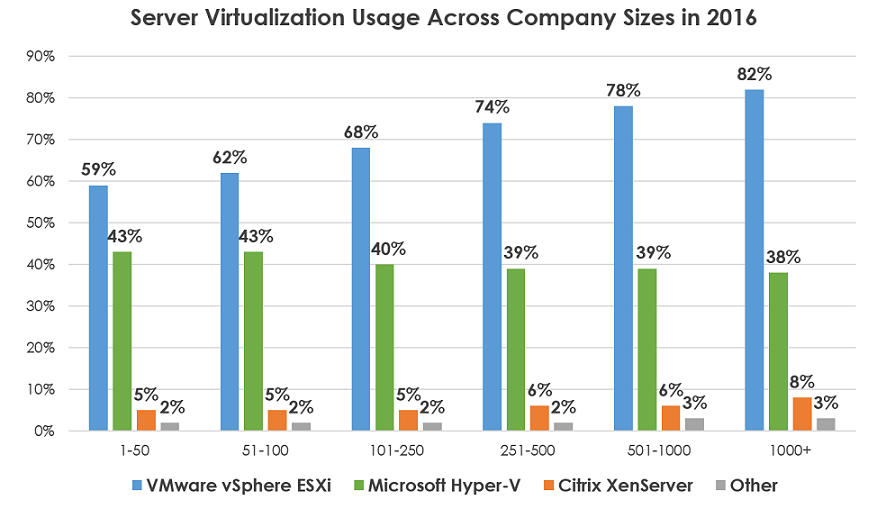 L'étude de Spiceworks porte de manière générale sur les hyperviseurs et les systèmes d'exploitation serveur en 2016. Elle révèle que 76 % des organisations ont aujourd'hui recours à la virtualisation de serveurs qui leur offre de nombreux avantages, en plus de la possibilité d'exécuter plusieurs systèmes d'exploitation sur un seul serveur physique. Ce taux devrait passer à 85 % en 2017, selon Spiceworks.

En ce qui concerne les hyperviseurs, les outils utilisés pour faire de la virtualisation, Microsoft et VMware dominent la partie, quelle que soit la taille de l'entreprise. Mais VMware se démarque largement de son principal concurrent. Dans l'ensemble, 71 % des entreprises utilisent VMware vSphere ESXi contre 23 % pour Microsoft Hyper-V. L'écart entre les deux fournisseurs est plus ou moins grand selon la taille des entreprises. Il faut également remarquer que seulement 6 % de parts reviennent aux autres hyperviseurs comme Citrix XenServer.
http://www.developpez.com/actu/101333/Spiceworks-au-moins-une-entreprise-sur-deux-dans-le-monde-utilise-encore-Windows-Server-2003-quels-systemes-serveur-utilisez-vous-en-entreprise/
Produit vsphere
Composants

Infrastructure
1 domaine : vsphere.local
3 réseaux :

Management : .1.0/24
Production : .10.0/24
Vmotion : .20.0/24

6 machines :

gw (.1) : routeur, DHCP, DNS, NTP
viclient (.101) Une Station de gestion
vcenter (.50)
esxi01 (.51)
esxi02 (.52)
san (.90)
Modules
Course Intro
Virtualization Intro
Virtual Machines
vCenter Server
Networking
Storage
VM Management
Resource Monitoring
High Availability and FT
Host Scalability
vSphere Update Manager
Install vSphere Components
Exercices
VMware vSphere: Install, Configure, Manage Lab Manual ESXi 6 and vCenter Server 6
Lab1: Installing vSphere Client
Lab2: Configuring ESXi Hosts
Lab3: Working with Virtual Machines
Lab4: Working with vCenter Server
Lab5: Using vSphere WebClient
Lab6: Creating Folders in vCenter Server Appliance
Lab7: Using Standard Switches
Lab8: Using vSphere Distributed Switches
Lab9: Accessing iSCSI Storage
Lab10: Accessing NFS Storage
Lab11: Managing VMFS Datastores
Lab12: UsingTemplatesandClones
Lab13: Modifying Virtual Machines
Lab14: Migrating Virtual Machines
Lab15: Managing Virtual Machines
Lab16: Managing vApps
Lab17: Managing ResourcePools
Lab18: Monitoring VirtualMachinePerformance
Lab19: Using Alarms
Lab20: (Optional) Using vRealize Operations Manager
Lab21: Using vSphere HA
Lab22: Implementing a vSphere DRS Cluster
Lab23: Using vSphere Update Manager
Answer Key
Nested Virtualization
Création des réseaux virtuels
Mise en place de la passerelle
Mise en place de esxi01
Installation de viclient
Mise en place de vcenter
Mise en place de esxi02
Mise en place de nas
...
Images
What's New with vSphere 6.5 Hands on Lab :
Passerelles
OpenWRT
pfSense
ESXi ISO image (Includes VMware Tools)
ESXi ISO image (Includes VMware Tools)
2016-11-15 | 6.5.0 | 328.28 MB | iso
Boot your server with this image in order to install or upgrade to ESXi (ESXi requires 64-bit capable servers). This ESXi image includes VMware Tools.
MD5SUM: af7447df72301dd56c9ca3d42f310efc
SHA1SUM: 4b71e69c606a54ae1c4b34341e341f1f6786d7b2
SHA256SUM: 435b899e6ca4bd6474c8020083199acc38913176372255fa8c25dbd471aab692
VMware vCenter Server Appliance
VMware vCenter Server Appliance
2016-11-15 | 6.5.0 | 3.37 GB | iso
vCenter Server Appliance ISO. It includes the UI and CLI installer for install\, upgrade or migration for VMware vCenter Server Appliance\, VMware Platform Services Controller\, VMware vSphere Update Manager and Update Manager Download Service (UMDS).
MD5SUM: 01469bfe099292180fe97abbbf5c58db
SHA1SUM: d4311f6a58f304768e86a7476446769d64fd0ece
SHA256SUM: 5ffc245aaec97f63d799f59c85651468c1dd4cf01e7e2c41b0ed7f725eb10a35
Photon OS is an open source, Linux container host runtime optimized for VMware vSphere®. Photon OS is extensible, lightweight, and supports the most common container formats including Docker, Rocket and Garden. Photon OS includes a small footprint, yum-compatible, package-based lifecycle management system, and can support an rpm-ostree image-based system versioning. When used with development tools and environments such as VMware Fusion®, VMware Workstation™, HashiCorp (Vagrant and Atlas) and a production runtime environment (vSphere, VMware vCloud® Air™), Photon OS allows seamless migration of containers-based Apps from development to production.
https://vmware.github.io/photon/
vRealize Operations Manager - Appliance installation
vRealize Operations Manager - Appliance installation
2016-11-15 | 6.4.0 | 1.73 GB | ova
vRealize Operations Appliance installation intended for new installations as a VMware Virtual Appliance (OVA).
MD5SUM: 544506c6e29e971b10cc60b118066a92
SHA1SUM: 1c668a34ded061277f5aa5455363beb7b20f0966
SHA256SUM: c847b703d4ff65d88a6478f600cfdd13a316fa3ffe31c92e6a5da75a61a6543a
Serveur de stockage
Openfiler
FreeNas
Version Vsphere6
| Feature | vSphere 6.0 | vSphere 6.5 |
| --- | --- | --- |
| Released | March 2015 | November 2016 |
| Physical CPUs per host | 480 | 576 |
| Physical RAM per host | 12 TB | 12 TB |
| VMs per host | 1024 | 1024 |
| vCPU per VM | 128 | 128 |
| vMEM per VM | 4 TB | 6 TB |
| Cluster Size | 64 | 64 |
| High Availability | Reactive HA | Proactive HA |
| vSphere Integrated Containers | NO | YES |
| VM Hardware Version | 11 | 13 |
| VMFS Version | 5.61 | 6.81 |
| Management | vSphere Web Client, vSphere Client (C#) | vSphere Web Client HTML5 Client |
| Authentication Management | Platform Services Controller | Platform Services Controller |
| vMotion | vMotion across vCenters, vMotion across vSwitches | vMotion across vCenters, vMotion across vSwitches, Cross-Cloud vMotion |
| vMotion Network Support | L3 Network, max. 100ms RTT | L3 Network, max. 100ms RTT, vMotion Traffic Encryption |
| Win to vCSA Migration | vCenter 5.5 to vCSA 6.0 | vCenter 5.5 to vCSA 6.5, vCenter 6.0 to vCSA 6.5 |
| REST API | NO | YES |
| VM Encryption | NO | YES |
| Virtual Volumes | Virtual Volumes 1.0 | Virtual Volumes 2.0 |
| Virtual SAN | VSAN 6.0 / 6.1 / 6.2 | VSAN 6.5 |
| vCenter Type | Windows, Linux (vCSA) | Windows, Linux (vCSA) |
| vCenter HA | NO | YES |
| vCenter Native Backup | NO | YES |
| vCSA Scale (vPostgres) | 1000 Hosts, 10000 VMs | 2000 Hosts, 25000 VMs |
| vCSA Operating System | SUSE Enterprise 11 | Photon OS |
Source : http://www.virten.net/vmware/vsphere-6-0-vs-vsphere-6-5/